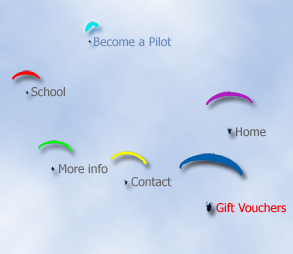 ParAvion Paragliding Centre
Elm Tree Park
Marlborough
Wiltshire
SN8 1PS
Telephone: (01672) 861380
Fax: (01672) 861580
email: [email protected]
ParAvion Paragliding Centre has been registered with the British Hang Gliding & Paragliding Association (BHPA), since 1989 and is now one of the most respected and successful schools in the UK.
Our CFI Trevor McLoughlin took over the business in early 2004 and has invested a lot of time and money in improving it. The shop and classroom have been completely gutted and redecorated. Not only do we now have new furniture and carpets, we have a shop full of new stock too – if you've not been in to visit us for a while, you really should come and take a look.
We may not be the biggest but we like to think we are one of the friendliest – the kettle is always on and the coffee and tea are free.
Feel free to call in anytime for a chat or a look round our shop – we have most things you're likely to need. There are videos you can watch and books for you to look at in our classroom if we're a little busy.
In summer, we're normally open seven days a week between 9.30am and 5.30pm. Occasionally we'll close for an hour or two, so if you're travelling any distance it's best to call us first. In winter we close on the odd non-flying day (especially Sundays) and occasionally we'll close for the afternoon, so it's even more important that you call.
We are situated in the lovely Wiltshire countryside on the A4, just outside the market town of Marlborough. We are less than two hours drive time from central London and we can be reached from Reading, Oxford, Southampton or Bristol in under an hour.
Visit our:
Discussion Forum
On-line shop
Picture Gallery